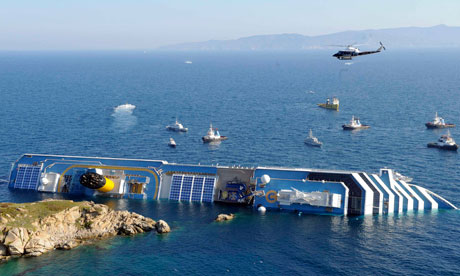 The Italian captain of a ship that sank off the coast of Tuscany was placed under arrest after one of the most dramatic holiday cruise disasters ever seen in the Mediterranean. Three passengers died and 69 were still unaccounted for after the 114,000-tonne Costa Concordia smashed into rocks amid scenes of panic and chaos.
Local prosecutors said Francesco Schettino was being investigated for manslaughter and abandoning ship following reports his stricken vessel failed to raise a mayday alert as the disaster unfolded.
There was speculation that a power failure on board the ship could have led to it losing navigational control and crashing into the rocks. Experts said that passenger reports of a power blackout and large blast indicated the vessel could have suffered an explosion in the engine room.
As the ship came to rest half submerged on its side, yards from the coast of the island of Giglio late on Friday, anger rose among the thousands of passengers who had swum or been ferried and flown to safety over what they described as a botched evacuation by crew members who panicked.
Italian police confirmed that two French tourists and a Peruvian crew member drowned in the accident. About 30 people were reported injured, with three critically hurt.
A British embassy official said not all the Britons on board the vessel had yet been accounted for. He said consular officials had so far confirmed that "around 20" survived.
Survivors described extraordinary scenes of panic, confusion and fear as the ship tilted on its side following what sounded like a loud explosion. Kirsty Cook, one of eight British dancers working on the cruise, said she was "lucky to be alive" after using a rope ladder to climb down to a waiting rescue boat. Another dancer, Rosie Metcalf, 22, from Dorset, had to cling to a fire hose before being winched to safety by a helicopter crew.
The Costa Concordia, which was built in Italy and launched in 2006, set off from Civitavecchia on Friday for a Mediterranean cruise, carrying 3,206 passengers and 1,023 crew. As the ship slid between Giglio and the coast, passengers sitting down for their first dinner on board felt a shudder before the lights went out.